Reflections on UX Open 2013
Posted on October 13, 2013
---
Yesterday I attended UX Open in Stockholm. This was the second year in a row the unconference about UX was hosted by Martin Christensen (@m8rt). I missed last year's event so I was really eager to go!
The unconference consisted of lots of ten minute lightning talks, followed by open group discussions about topics that were decided on the spot.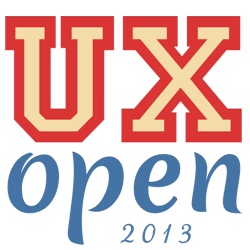 I enjoyed all talks, but here's a summary of the ones I found most interesting.
Explaining UX with a glass of lemonade
Per Axbom (@axbom) kicked off the event with the story of Amy, a young girl with no money wanting to buy a snowboard. She starts selling lemonade and ends up with a lemonade empire and vacations spent snowboarding.
Check out the slides.
This was a simple and nice explanation of what UX is. It would serve well as an introduction for new people in the field.
The target group of UX design is the developer!
Marie Lambertsson (@Lambertsson) of Ikivo talked about improving collaboration between UX designers and developers.
Marie wanted to learn what developers like and dislike when collaborating with UX designers. To do this she treated them like the target group when doing UX work and learned that they wanted the following stuff:
Information architecture
Navigation, gestures and transitions
How animations should look
Design patterns
Component descriptions
Wireframes
Details (at the right time)
Finished and exported graphic assets (no Photoshop files)
Being both a UX designer and a developer I think this is a really good idea, especially when working with developers you haven't worked with before. You don't waste time creating something that won't be used and the developers get exactly what they want. Simple and smart. Do it!
Important things about user experience design I've learned from my cat
Annelie Olsen (@anneli_olsen), self-proclaimed "crazy cat lady" from Tobii, explained that even though cats are evil, selfish, self-absorbed and vain (totally agree) we still love them. Why?
After explaining the connection between cats and UX, Annelie presented her four lessons for good UX:
Hide the complicated stuff
Provide users with feedback
Be clear, but subtle, when notifying the user
Don't forget to entertain the user
Put the user in focus
She finished her lightning talk with a great question. Can you learn something from the things you love and incorporate it into your design? I'll start asking myself this question from here on.
Can you learn something from the things you love and incorporate it into your design?
Quick tips from the trenches for better wireframes
John-Philip Johansson (@seriemajp) from Avanade Nordic had so many tips for making better wireframes that he didn't have time to tell them all. Here are the ones I had the time to write down:
Sketch components separately for consistent design.
Pop-ups suck on small screens. Put content on a new page instead.
Use proper HTML5 input types for web forms.
Sketch extreme values like empty search results and lists.
Use unique names for your wireframe files.
Use different languages. A short word in swedish can be really long in finnish and break your design.
Sketching for extreme values is a great piece of advice! I always do this.
Alpha – our way of usability testing
Linda Mattsson (@Lanende) of Daytona talked about Alpha, a process for usability testing at Daytona.
Once a week their office gets a visit from two consultants from another company for two hours (not completely sure about the time). This time is then shared between Daytona's designers for usability testing whatever needs to be tested.
Daytona had three reasons for starting Alpha:
Create better websites and web services
Make sure testing is actually performed
Improve the skills of their UX crew
Linda's six step guide to get started with Alpha:
Decide day and time
Select a frequency
Contact a consultant company
Invite those consultants
Make sure every designer knows about them coming
Test your designs
I like this idea. Every now and then colleagues at HiQ ask me for design advice. In most cases I have the time to help them, but sometimes not. A set time every week for colleagues to get design feedback sounds much better than going through the same ad hoc process again and again. Nice idea Daytona!
Conclusion
UX Open 2013 was great. Great lightning talks, great open group discussions, great space and great fika. The only downside was that the lightning talks were a bit too short. I know the point is to keep them short and focused, but five more minutes would have been better and given more time for questions afterwards.
I'll definitely go again next year. Perhaps with a lightning talk about wireframing, responsive web design or accessibility in my back pocket.
Did you go to UX Open 2013 and what did you think? Did I misunderstand something in my summarization above or get some fact wrong? Let me know in the comments section below!